I'm thrilled to welcome back David Amram to the Side Door this Friday night at 8 p.m. After a career like Amram's – which includes world-class work in jazz, classical music, film scoring, and literature – he deserved to have the word "legendary" next to his name.
Amram is also a great storyteller, with vivid memories of his days working with Jack Kerouac and the beat writers and poets in the '50s and '60s. And he's living proof that at 92 you can continue to live a life that's full of creativity and joy.
He'll be performing in the Side Door Friday night with Mark Feinman on drums, Alejandro Arenas on bass and Jack Wilkins on sax. Actor Jim Sorensen will take the stage a few times to deliver some of Kerouac's best writing, while Amram improvises behind him. It's close to the same lineup that sold-out the Side Door last time David was in town.
David will also be making visiting St. Pete's Jack Kerouac house Friday before the show.
For tickets and information, please follow this link.
To get you ready for Friday evening, I'm sharing this 2021 interview from the website Pleasekillme.com, which chronicles the hippest performers and events on the plant. 
Check it out:
---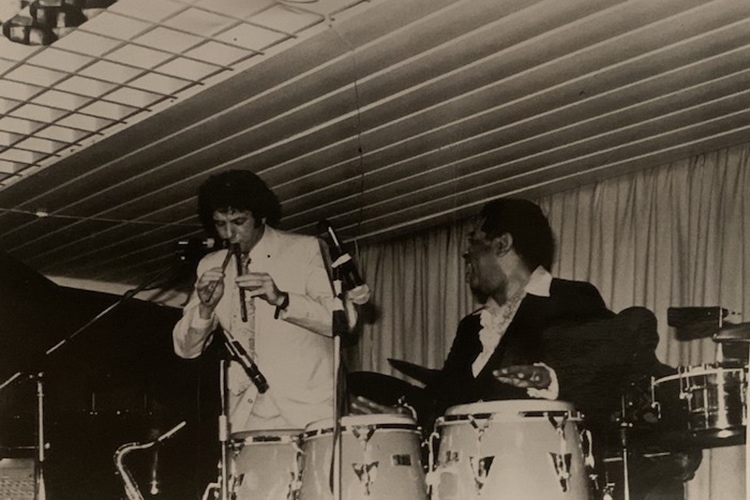 DAVID AMRAM: ON KEROUAC, GINSBERG, MINGUS, SPIRIT AND FAMILY
By Noah Lekas
April 22, 2021
Composer David Amram, now 90, has worked with some of the jazz greats, including Miles Davis, Sonny Rollins, Monk, Gillespie and Mingus but his connection with writers Jack Kerouac and Allen Ginsberg has also helped keep the Beat flame burning. Amram and his daughters, Alana and Adira, and son, Adam, have launched their own After The Fall Records label and imprint. One of their first releases, later this year, will be Pull My Daisy: The Original Soundtrack by Kerouac and Amram, 60 years in the making. Noah Lekas spoke with David Amram about this and other things for PKM.
"The only thing in culture worse than obscurity is recognition" explains composer, conductor, and multi-instrumentalist David Amram. "Then you're told it's time to move to the next level, which means enter someone's personal cesspool in order to be groovy." As a jazz pioneer of the French horn, the first composer-in-residence at the New York Philharmonic, a lecturer, and the composer of films scores like the Manchurian Candidate and Robert Frank and Alfred Leslie's 1959 film Pull My Daisy, Amram has managed to experience both obscurity and recognition, somehow never letting careerism get in the way of making art.
If like me, punk opened the door to your literary pursuits, it was likely Amram's connection to the Beats that first put his name on your radar. While the Beat Generation weathers its seventh decade of cultural resurgence and mainstream ambivalence, Amram continues to champion his contemporaries while educating subsequent generations that it is having something to say, and not marketing, that warrants a movement.
David Amram and I had a long, winding conversation by phone discussing Kerouac, After the Fall Records, art for art's sake, and how to keep the deleterious forces of the adult world from bumming you out. This conversation has been edited for clarity and length.
PKM: Pull My Daisy was big for me, that was the first time I heard Jack Kerouac's voice, and definitely the first time I heard your name.
David Amram: You know, they would just write a poem, like summer camp and everybody writes two sentences. It was real long and all of Allen (Ginsberg)'s stuff was real homoerotic, and Neil's and Jack's was spiritual and down home. For the film, Jack chose most of the stuff, so it had a lot of the spiritual. Jack was really a poet that wrote in a prose form. One night he spent seven hours telling me this story about being in Algiers and I was copying music; suddenly, it was daylight. I said, "Man, I wish I had a tape recorder, you've been talking for seven hours, that was like a whole book." And he said, "That's what I try to do with my writing, to have the reader feel like I'm talking to them and I can never quite get it all." Jack was so different, he was almost conversational. More than a fast typist, he was the engine that pulled the train, and everybody more or less copied him.
Jack had written so many books like Visions of Cody that I really loved and that didn't come out until 3 years after he died. He used to always say (Kerouac impression) "I'm a writer Davey, I'm an author" with the Lowell accent you know? "I'm a writer, an author, they don't read my books." I remember walking down 2nd Avenue and I said, "You know Jack, you should call it the Derma Bums, you'd get the whole Jewish audience to buy the book." He said, "Ah that's not funny." He was really devastated because they were writing about him, and they didn't actually read his books.
PKM: Kerouac the icon and Kerouac the writer don't often cross paths.
David Amram: That's something that everybody faces. Once you understand that, then you don't get that depressed.
PKM: More and more, artists are expected to make a brand of themselves. To the point that questioning it feels obtuse. I imagine Jack's disdain for the cult of personality would be tested by the modern landscape. Has that relationship of art and the artist changed a lot?
David Amram: You know Allen was kind of a genius in the PR department, because he worked in an advertising agency so he understood that. Norman Mailer said the first three weeks of publicity for the book are the most important. Jacqueline Susann [Valley of the Dolls] used to go to the bookstores and create a riot if her book wasn't in the window. Yoko Ono used to buy copies of her albums to try and get them in the charts. There has always been that kind of thing, and Ernest Hemingway, they thought he was dead when his plane crashed in Africa but rather than calling his family he called Leonard Lyons, the biggest gossip columnist in the USA, syndicated in all the papers.
PKM: There is nothing new under the sun, right?
David Amram: Essentially what survives is the work itself. As Jack used to always say, quoting John Keats' Ode on a Grecian Urn, "A thing of beauty is a joy forever" and another one, "By your works you shall be known" and Walter Pater's great saying, "An artist must burn with a hard gemlike flame." That was his 2 am or 3 am mantra, over and over again until we all were joining in the amen chorus. It was really true. It's difficult to emphasize that because it sounds like you are against progress or free excitement, but essentially if what you're doing is saying something, it will eventually get its own audience. The great stuff advertises itself.
PKM: (Laughs) No marketing required.
David Amram: I think that's what it's about, do better than expected, be gracious to all people, and share your blessings. People hear that and they say, "Oh man sounds like some spiritual advice, let me get my wallet and hide it." When you hear even the word "spiritual" you get ill to the stomach. But it's really just about simple values. Everything else goes into the landfill next week. The stuff that is really valuable eventually comes out on its own. Jack died with $83, almost all of his books out of print, and people saying he was just a one hit wonder-drunk-bum-speed freak-typist. Turns out, his books were really saying something, and he was a great storyteller, a wonderful poet, and different. I don't know if he was a good guide on how to write or how to be a writer, but he was saying something.
PKM: The Beat Generation has really become generations and eclipsed so much of the work, or as you put it, what any of them had to say.
David Amram: Allen was a genius at publicizing that to create a hierarchy of the Beat Generation, I happened to be in some of those pictures, but it wasn't a corporation like the Shriners or anything, there wasn't a board of directors of the Beat Generation, there wasn't anything. If it hadn't been for On the Road getting such a staggering review, where people had to say, "Wait a minute this, guy from Lowell wearing a flannel shirt, who doesn't wear a tweed coat with patches on the sleeve and have a fake English accent is the new writer of the year?" So, they had to have him be the King of the Beat Generation, suddenly all this crap was thrown on him. He wasn't striving for that. He said, "I wish I hadn't used that goddamned term." Lawrence Ferlinghetti, in the last 30 years, wouldn't go anywhere if he was described as a Beat poet. He said, "I'm a Bohemian if anything" (Laughs). Gary Snyder couldn't stand the whole scene after On the Road came out, and he loved Jack, he just kind of hid out 'cause he couldn't stand that either.
For the rest of this wide-ranging interview please follow this link. (https://pleasekillme.com/david-amram-kerouac-ginsberg/)