---
"David Amram is the Renaissance Man of American Music." –The Boston Globe
Multi-instrumentalist David Amram will appear with Mark Feinman, drums, Alejandro Arenas, bass, and Jack Wilkins, sax. Actor Jim Sorensen will also present readings from Kerouac, while Amram and the band improvises behind him.
---
Musician, composer, and beat generation icon David Amram appears with band and actors reading Kerouac in the Side Door.
David Amram started his professional life in music as a French Hornist in the National Symphony Orchestra (Washington, D.C.) in 1951. After serving in the US Army from 1952-54, he moved to New York City in 1955 and played French horn in the legendary jazz bands of Charles Mingus, Dizzy Gillespie, Lionel Hampton and Oscar Pettiford.
In 1957, he created and performed in the first ever Jazz/Poetry readings in New York City with novelist Jack Kerouac, a close friend with whom Amram collaborated artistically for over 12 years.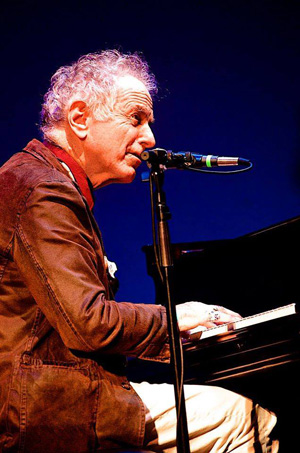 Since the early 1950s, he has traveled the world extensively, working as a musician and a conductor in over thirty-five countries including Cuba, Kenya, Egypt, Pakistan, Israel, Latvia and China. He also regularly crisscrosses the United States and Canada.
He composed the scores for many films including Pull My Daisy (1959), Splendor In The Grass (1960) and The Manchurian Candidate (1962). He composed the scores for Joseph Papp's Shakespeare In The Park from 1956-1967 and premiered his comic opera 12th Night with Papp's libretto in 1968. He also wrote a second opera, The Final Ingredient, An Opera of the Holocaust, for ABC Television in 1965.
From 1964-66, Amram was the Composer and Music Director for the Lincoln Center Theatre and wrote the scores for Arthur Miller´s plays After The Fall (1964) and Incident at Vichy (1966).
Appointed by Leonard Bernstein as the first Composer In Residence for the New York Philharmonic in 1966, he is now one of the most performed and influential composers of our time.
---
Presented by The Palladium.
---
TICKETS
Reserved: $50 – select seats from the map.
General Admission: $25 in advance, $30 day of show.
Please note only certain tables have reserved seats. Most tables are GA seating as noted on the map.
Student w/valid ID: $20 – GA only.