Founded by The Florida Orchestra's Artistic Director and Concertmaster, Jeffrey Multer and Palladium Executive Director Paul Wilborn, the Palladium Chamber Players series has been bringing world-class chamber music to Hough Hall since 2013. The dynamic group of internationally renowned soloists and chamber musicians will bring vibrant interpretations of the great classical repertoire monthly from January through May.
This core group of musicians, often joined by world class guest artists, is led by Jeffrey Multer, and includes violist Danielle Farina, cellist Edward Arron, pianist Jeewon Park, cellist Julian Schwartz, and pianist Marika Bournaki.
We are very proud of what the Palladium Chamber Players has achieved in the past decade. The list of world-class musicians who have been featured is astounding. The exceptional quality of the Chamber Players' programs has garnered significant acclaim from our region's news media and audiences and has attracted musicians and their agents worldwide to seek out the Palladium as a chamber music destination.
We cannot produce such an acclaimed series without community wide support and hope you will join us.
Download a partnership brochure today or donate online right now!
---
2023 Season
Our Tenth Anniversary Season of the Palladium Chamber Players promises to be a highly anticipated celebration of artistry at the highest level, with tour-de-force programming performed by some of the best chamber musicians in the world and phenomenal guest artists. This season will feature some of your favorite repertoire from the chamber music canon as well works that may be new to your ears.
Here is the line-up for our 2023 Season: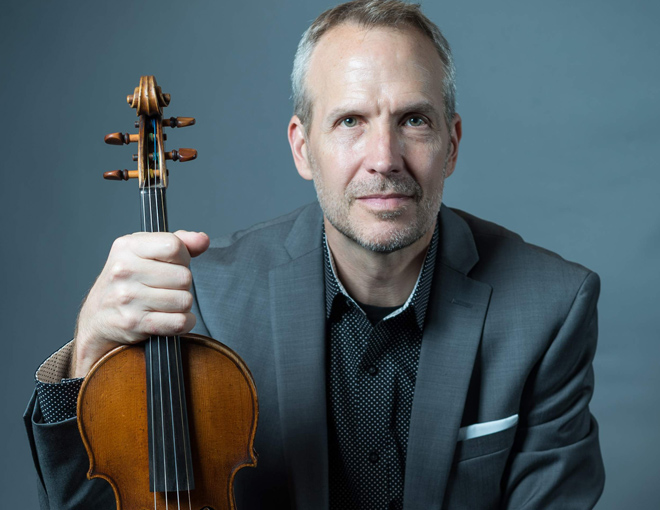 WEDNESDAY, JANUARY 11, 2023 • 7:30 PM
The Chamber Players Celebrate 10 Years
Come hear the music that started it all 10 years ago! The original Chamber Players will recreate the program that brought world-class chamber music to Tampa Bay and convinced us that Tampa Bay needed an annual season of their concerts. Artists: Jeffrey Multer, violin; Danielle Farina, viola; Edward Arron, cello; and Jeewon Park, piano perform works by Beethoven, Dohnányi, and Brahms.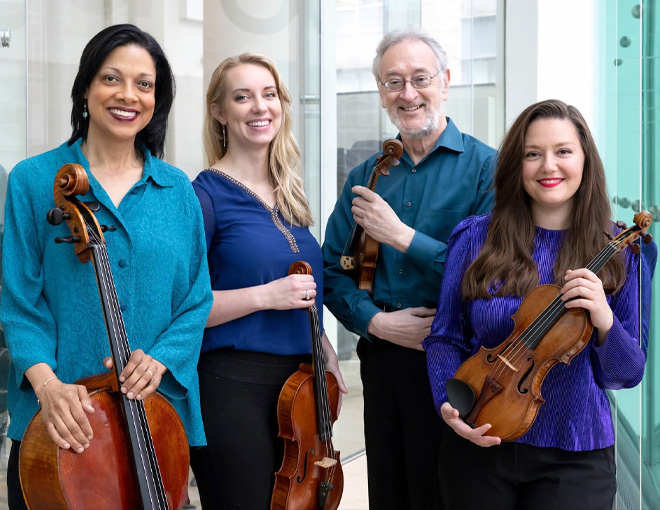 TUESDAY, FEBRUARY 21, 2023 • 7:30 PM
The Juilliard String Quartet
With unparalleled artistry and enduring vigor, the Juilliard String Quartet continues to inspire audiences around the world. Founded in 1946 and hailed by The Boston Globe as "the most important American quartet in history," the ensemble draws on a deep and vital engagement to the classics while embracing the mission of championing new works, a vibrant combination of the familiar and the daring. The quartet features their newest member, violist Molly Carr, who has been praised for her "intoxicating" (New York Times) and "ravishing" (The Strad) performances.
*Guest violinist Michelle Ross joins the group for this performance, substituting for Areta Zhulla.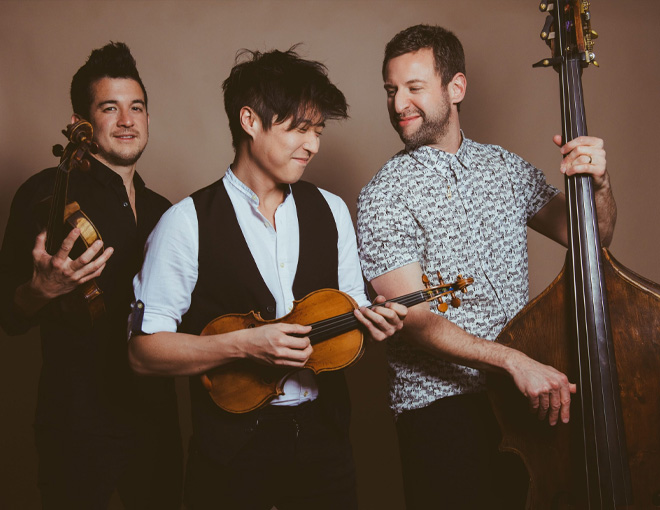 WEDNESDAY, MARCH 8, 2023 • 7:30 PM
Time for Three
Defying convention and boundaries, Time For Three stands at the intersection of Americana, modern pop, and classical music. To experience Time For Three (TF3) live is to hear various eras, styles, and traditions of Western music fold in on themselves and then emerge anew. Bonded by an uncommon blend of their instruments fused with their voices, Charles Yang (violin, vocals), Nicolas "Nick" Kendall (violin, vocals), and Ranaan Meyer (double bass, vocals) have found a unique voice of expression to share with the world.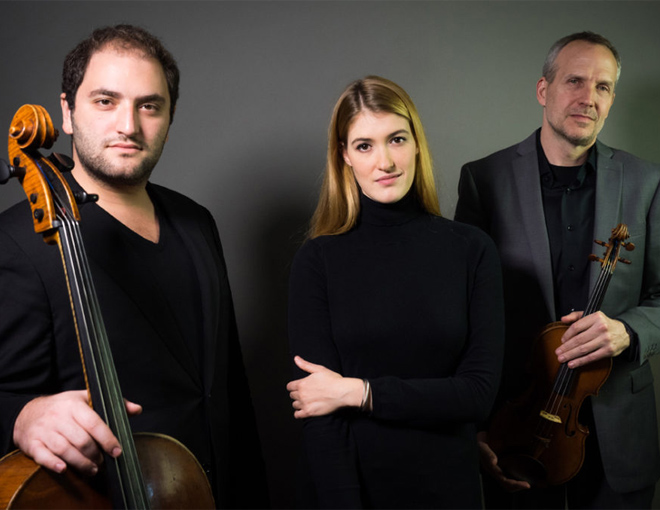 WEDNESDAY, APRIL 12, 2023 • 7:30 PM
Mile-End Trio
The Mile-End Trio is a crowd favorite at the Palladium. First appearing in 2018, they quickly moved to the ranks of our core Chamber Players musicians and have returned each year to wide acclaim. Artists: Jeffrey Multer, violin; Julian Schwarz, cello; and Marika Bournaki, piano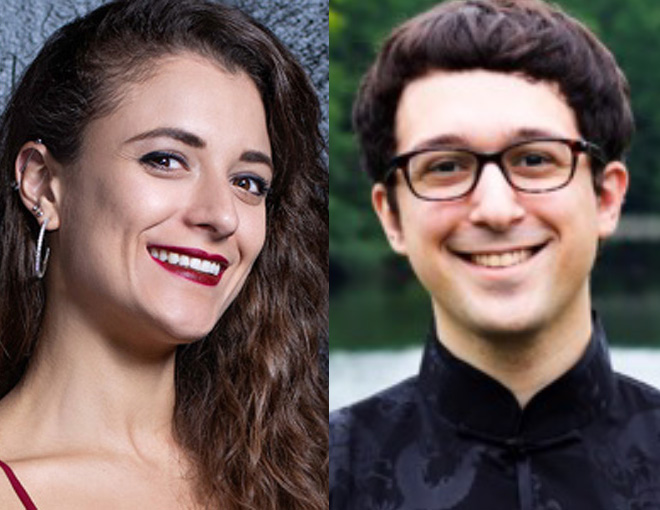 WEDNESDAY, MAY 10, 2023 • 7:30 PM
Milena Pajaro-van de Stadt & Paul Nemeth: Palladium Chamber Series
For the final concert of the season, original Palladium Chamber Players Jeffrey Multer, Edward Arron, and Jeewon Park welcome two-time Grammy-nominated guest violist Milena Pajaro-van de Stadt for a program of music by Mozart, Turina, and Schubert. Also joining them for Schubert's Trout Quintet is Paul Nemeth, newly-appointed Associate Principal Bassist of The Florida Orchestra.
TICKETS
Reserved: $40, $25, $15.
Group of 10 or more: $35, $20, $12.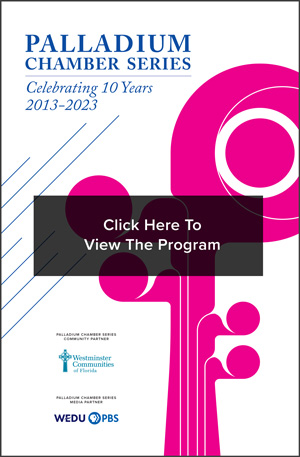 ---
Parnership Opportunities
Download a partnership brochure today or donate online right now!
10TH ANNIVERSARY SEASON PRESENTING PARTNER – $10,000
CHAMBER PLAYERS COMMUNITY PARTNER – $5,000 – Thank you Westminster Communities!
INDIVIDUAL CONCERT PARTNERS (ONE OF FIVE OPPORTUNITIES) – $2,500
---