Summer is a season when we get to bring exciting bands that we aren't able to present during our "busy season." That's one good reason why we're featuring world fusion band WAHH on this Saturday in the Side Door.
I caught the band a few years ago at the much-missed Hideaway Café. My Tampa buddy, the late Ray Villadonga, was playing bass. I was mesmerized. So when Shankh Lahiri, the leader of WAHH, reached out to say he could get his diverse musical collective together in June, I said "let's do it."
Bill DeYoung, the arts writer at St. Pete Catalyst, just posted an interview with Shankh. I'm sharing it below. WAHH appears Saturday, July 2, in the Palladium's intimate Side Door Cabaret. For tickets and more information, please follow this link.
To read the Catalyst story, you can follow this link, or just enjoy the story below.
---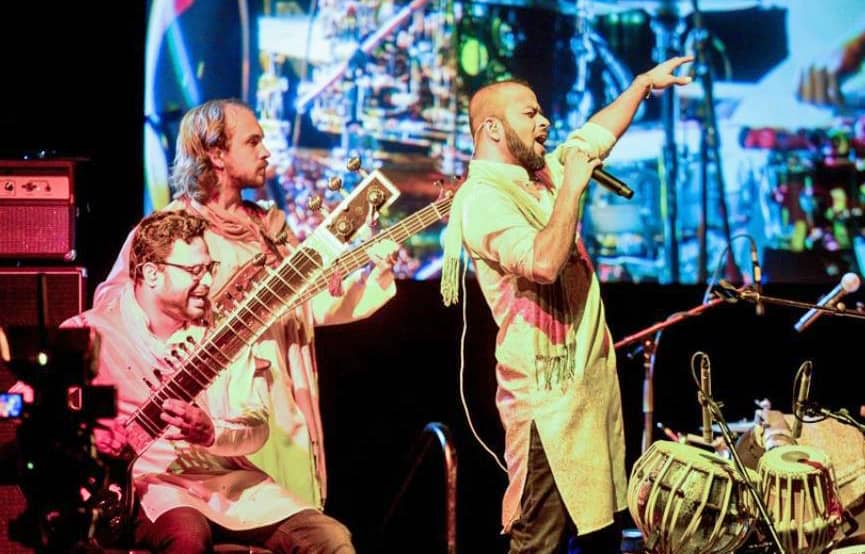 By BILL DEYOUNG
Posted June 28, 2022
When Shankh Lahiri arrived in Tampa 11 years ago, he set about finding "like-minded" individuals – skilled musicians who were open to fusing Indian classical music with electric jazz, blues and funk.
The result was WAHH World Fusion Band, one of the most unique ensembles in the bay area. The music is performed on sitar, electric guitar, bass, drums and tabla.
The band is in performance Saturday at the Palladium Theater.
Tabla is a hand drum used in Indian classical music. Lahiri grew up in India and studied with some of the masters of the instrument.
"I come from a family of musicians," he explains. "My father was a sitar player; he brought students from the U.S. and Europe, and since my childhood I was exposed to different kinds of music, jazz and blues and African and Cuban music."
He spent several months out of each year based out of New York City, touring the country, and the world, with top-level players from both east and west.
"I was doing a little bit here and there, playing with other musicians, but start a band? That is a big responsibility. It's like introducing a new baby in the world."
But that's what he did upon arriving in the bay area. WAHH – it's an Indian exclamation, sort of a "Wow!" – began when Lahiri met Tampa musician-of-all-stripes Ray Villadonga. "He was very much into world music and global culture, and had an interest to collaborate with eastern musicians," Lahiri recalls. "He was very interested to start something."
Villadonga played bass and other instruments as a part of WAAH. He and Lahiri composed much of the music.
He died of cancer in 2017, recording one last album with the group – Brother Ray – in several 12-hour marathon sessions.
For Lahiri, who operates the Shruti Foundation & Shruti School of Music, a Tampa music school, concert promotion company and cultural organization, his vision for this kind of band could only be realized in the United States.
"If I wanted to do just traditional music, I could have stayed in India," he says. "That's the best place to play traditional music."
Although several core players have stayed the course, some of the musicians who perform with WAAH are transitory. It's particularly difficult, according to Lahiri, to locate world-class sitar players in Florida.
Kunad Hari, who'll play sitar at the Palladium, recently relocated from New York to the Orlando area.
The other musicians will be Peter Mongaya (guitar), Seth Lynn (bass), Thomas Griggs (guitar) and Michael Washington (drums). Guianna Brave is the vocal artist. The music is a skillful blend of jazz structure, improvisation and Hindustani sounds, resplendent with their raga mood-shifts and singular musical intricacies (micro-notes and micro-rhythms).
Bandleader Lahiri also contributes vocals and additional percussion, as well as his fleet-fingered tabla work.
"Tabla is not a really loud instrument," he explains, "so the mix is very important – how you mix with the drums and bass and guitar.
"I have to work with very particular drummers who understand that I am playing some quiet instruments!"