I'm continuing our series of brief conversations with some of our favorite Palladium performers. Today I'm talking with the world-renown bluesman Selwyn Birchwood.
Selwyn emerged from the Tampa Bay and Orlando area in 2011 and has grown into a blues star, touring the world and playing major festivals. His albums for Alligator Records have topped the blues charts and in 2013 he won the International Blues Challenge in Memphis, which really propelled his career.
Selwyn started out playing the Side Door cabaret and despite his fame and fan base, he continues – at his insistence – to play our smaller club. He loves the audience, the interaction and the sound. We've been able to accommodate his fans by presenting he and the band for two nights instead of just one.
And speaking of the band, boy do we love saxophonist Regi Oliver, bassist Huff Wright and drummer Courtney "Big Love" Girlie. It's always fun when Selwyn and the guys are in the house.
They will definitely be part of our reopening, hopefully later this summer.
Now here's my conversation with Selwyn:
PALLADIUMPAUL: When was your last paying music gig?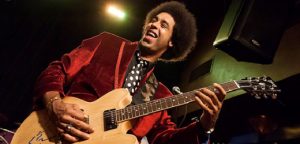 SELWYN BIRCHWOOD: I did an outside show last week to kind of test the waters of crowds and appeal. Before that I hadn't played a show in almost 3 months.
PP: Do you have a paying gig coming up in the next month?
SELWYN: I don't have anything booked right now, outside of my LiveStream shows.
PP: What has kept you busy during this shutdown?
SELWYN: I've been trying to use this time to study my instrument and grow musically.  I have also been busy doing The Blues Shadow which incorporates my music as well as skits and comedy to give people a positive fun option on Facebook. As well as a way to keep in front of some people and perform music.
PP: Has there been a silver lining, personally, for you?
SELWYN: As someone that was constantly on the move from one place to the next.. Being forced to stay still has made me slow down and take time as it comes and be more patient.
PP: Is there anything you'd like to share with your Palladium fans?
SELWYN: Looking forward to getting back out to see everybody! Please tune in to the Live shows until then!  Wednesdays nights I have "The Blues Shadow" and on Saturday nights I stream "Doing it with the Lights On!"
EDITOR'S NOTE: THE POSTER BELOW IS FROM A PAST SHOW. WE'LL LET YOU KNOW WHEN SELWYN HAS SOME DATES AT THE PALLADIUM: