Where do we even begin? The War Virgin –aka  Laura Westley — is the real woman behind a)  this very real story, b) her upcoming book by the same title, and now c) her musical comedy touring the U.S. and making a stop here at the Palladium on Saturday, September 17. W-O-W.
DC: War Virgin  looks to be a fascinating story and an exciting production for the Palladium – even if it were a work of fiction!  That It's YOUR AUTOBIOGRAHICAL STORY of "repression, temptation and liberation" and billed as a musical comedy makes it all the more intriguing, and even a bit mind-boggling.  Tell us why you came to write it.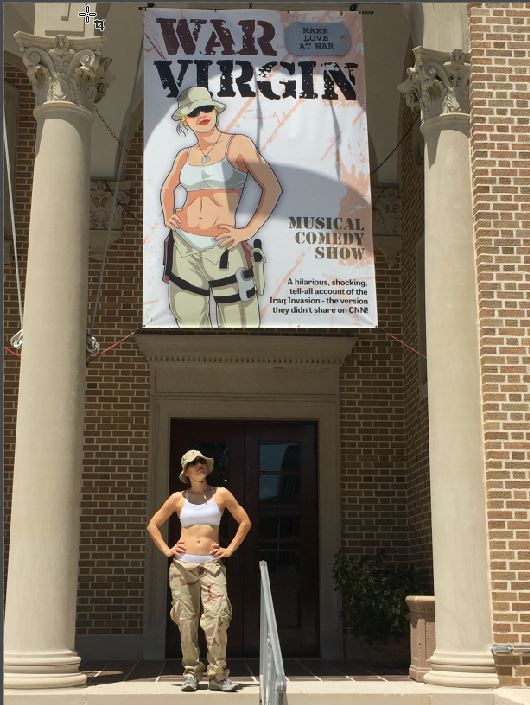 LW: Thank you!  I know I've had an unusual life that makes for an interesting narrative.  Yet, my experiences encompass common themes that many are challenged with: family abuse, religious oppression, society's demand to be perfect and discovering one's own sexuality.  I wrote War Virgin to connect with people who may be struggling with these obstacles and inspire them toward a path of self-liberation.  While doing this, I healed my own broken heart.  It's also important to help educate and prepare the younger generations, and I want them to learn from my mistakes and experiences.  Currently literature, especially military literature, is devoid of many perspectives outside of the typical macho, all-American hero who storms the hill in battle.  That scenario is a rarity, and the general public deserves to know about the other 99.9 percent of the military (and West Point).
As far as the musical comedy structure goes – humor is one of the best coping mechanisms; it's a common way for soldiers to bond, and I love to sing.
DC: Which came first, the book or the production?
LW: That's like asking if the chicken or the egg came first.  I started writing the book 8 years ago.  Initially it read like an angry Alanis Morissette rant; apparently I needed a lot of therapy.  But when I told my stories to people, I had them in hysterics.  A friend suggested I become involved with comedy and storytelling, and then one of the storytelling leaders suggested I create a one-woman show. I performed that from 2012 to 2014, and then Lil Barcaski (my director) and I met.  Lil expressed her vision for War Virgin to become a full fledged play.  She cast the actors.  We did an experimental run last year and met with a lot of praise and encouragement to keep expanding.
It's never been a smooth process, working on the book and show simultaneously.  Sometimes one takes precedence over the other.  But they have always fed each other, and now it's impossible to imagine one without the other.
DC:  The story tackles so many issues, and so many that are serious, modern-day questions worthy of deep thought and consideration.  How in the world did you create this production, tell this serious story and format it as a musical comedy?
LW: War Virgin is reflective of my personality.  I'm an activist and enjoy fighting for justice.  At the same time, I have a naughty sense of humor and love making people laugh.  I believe that sometimes it's best to convey your pleas for equality by singing song parodies about people and situations that have violated you.  It's completely disarming.  I can't think of a better way to raise my proverbial middle finger to my former oppressors.
DC: When I think about how one would successfully combine serious, dark topics with comedy and music, I can't help but think about shows like Cabaret, Sound of Music, and especially The Producers.  Did you think about these musicals as you turned your story into a musical comedy stagework?  Did you have other influences?
LW: After I saw the Book of Mormon in 2011, I could imagine War Virgin taking the same trajectory.  I'm also a huge fan of Weird Al Yankovic.  And I wanted to showcase my strong vocals.  Ironically, I was the President of the West Point Cadet Chapel Choir.
DC: Ok, how does a beautiful, demure young woman from a quiet, conservative New Port Richey nuclear family set her sights on and attend West Point?  Did your long-term plans there, followed by your Middle East military experiences change what you thought you'd do with your life, and what you're now doing with it?
LW: First of all, thank you for the "beautiful" compliment.
Essentially, my journey into West Point and the military was all about needing to feel more love from my father.  He lamented never having a son and lived vicariously through me.  I did everything imaginable to make him proud of me.  I know how to work hard and set long-term goals, so getting into West Point was a no brainer.  Sadly, it was never good enough.  My father always wanted more.
9-11 changed everything.  (That's why I'm releasing my book on 9-11.)  I graduated from West Point just three months prior.  I never imagined going to war.  Once that happened, my life hasn't looked like anything I ever envisioned.  However, a few years ago, I started experiencing deep regret and fantasized about starting over and attending Juilliard instead of West Point.  I can't go back and change that, but I can certainly affect my future destiny and pursue things that feel more in alignment with my heart's truest desires – not what society tells me I should do.
DC: I understand that the Palladium is the first stop on your War Virgin tour.  What other cities are planned for the national tour? Where can our out of town friends learn more and purchase tickets? And purchase the book set for release on September 11?
LW: My website has our tour schedule and ticket information: www.warvirgin.com
We're performing in Boston (where I lived when I started War Virgin), Asheville, West Point (for my 15 year reunion!), White Plains, Savannah and Washington, D.C.
My book can be purchased on Amazon.  It's available in soft cover or Kindle.  I'll have my Amazon seller page link to my website.  And I'll sell books and sign them after each show.
DC: What will Palladium audiences experience when they attend War Virgin on September 17? What would you want their big "takeaway" to be (besides your book at the book signing)?
LW: Here's what I wrote in the show program last year:
"My hope is that we can connect in a special way, united in our journeys of suffering and triumph, no matter where those journeys may transpire. May you be inspired to feel liberated from whatever might be oppressing you, whether that source is external or self-imposed. You are perfect, just as you are, divinely created to live in this crazy journey we call "life." Tonight I hope we celebrate life through our laughter and tears, as you experience a candid, raw, authentic account of a young woman's journey through repression, temptation and liberation. May you realize that warriors are vulnerable and sensitive, just like any human being. May you learn what really happens in environments that have unfortunately been filtered for public consumption, in an attempt to perpetuate false personas. May you feel validated in your desires of self-expression. And most of all, may you laugh your f$*@ing asses off."
DC: Are there particular groups whom you think your story would resonate and be especially meaningful to share?
LW: I try to give something special to everyone who embarks on the War Virgin journey, but these particular demographics may feel especially validated:
Women West Pointers (I actually dedicated my memoir to my West Point sisters.)
Recovered Christians
Abuse Survivors
LGBTQ
Any veteran who has ever had to burn their excrement
DON'T Miss War Virgin.  Follow this link for information and tickets!