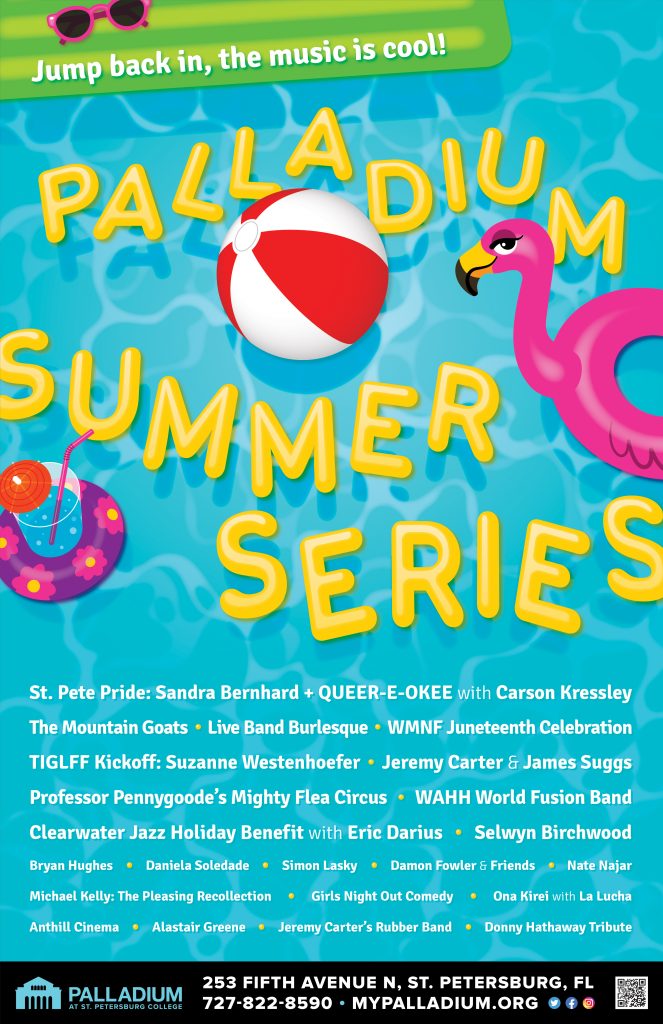 Following Tuesday's final performance of St. Petersburg Opera's La Fille Du Regiment, the Palladium's summer season officially begins. Our summer offerings this year include jazz, blues, cabaret, swing, burlesque and a lot more.
I'm thrilled to kick off the summer season by announcing our jazz show, Cole Swings Cool, is officially sold out! Bryan Hughes and his musical pals managed to sell out the Side Door five days before downbeat. That's quite an accomplishment.
Coming a few weeks after our sold-out show with pianist Judy Carmichael, I'm optimistic that our audiences are finally coming back after two long years away.
We're celebrating all summer with some live recordings (Damon Fowler and Friends on July 23), three album releases (from vocalists Ona Kirei, July 9, and Daniela Soledade, Aug. 19, and sax star Eric Darius, Aug. 12), comedy (Suzanne Westenhoefer, July 10 and Girls Night Out, Aug. 20), and some cutting-edge blues (Alastair Greene, July 15, and Palladium favorite Selwyn Birchwood, Aug. 5).
We're bringing in a dance floor for two great swing shows, starting with Professor Pennygood's Mighty Flea Circus on June 25 and a double-bill of Boho Sideshow and Dean Johanesen and the 24-Hour Men, on July 30.
Jazz offerings include new shows from Jeremy Carter and James Suggs, June 17, Nate Najar and Friends, July 14, and The Simon Lasky Group, Sept. 09.
There's a lot more hot entertainment packed into June, July, August and September. Best bet is to spend a little time with our website, www.mypalladium.org, or sign up for our weekly emails so you won't miss a thing.
Get out of the heat and step inside our cool venue for several of our special summer shows.