Our Palladium Chamber Players season closes tonight, Wednesday, May 4, with a concert featuring the works of de Falla, Schubert, and Rachmaninoff. Palladium favorites Edward Arron, cello, and Jeewon Park, piano, perform.
Classical music writer Kurt Loft has written a wonderful preview of the program for Creative Pinellas. (Kurt also wrote the program notes in our chamber series program).
Please check out Kurt's story here and join us tonight for our opening concert. For tickets and information please follow this link.
---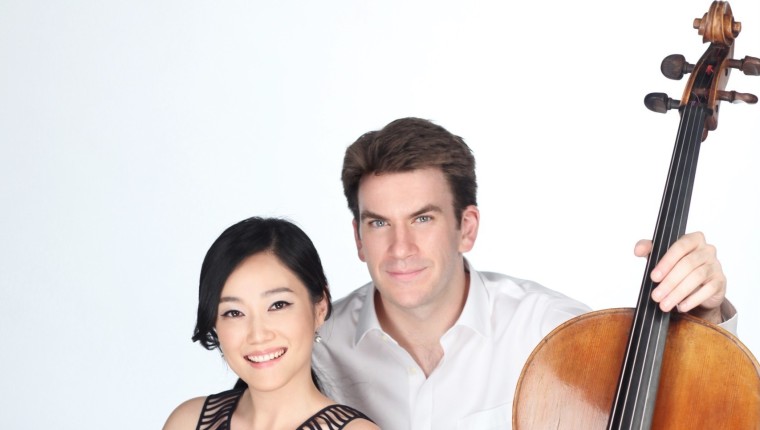 Palladium Chamber Musicians Play in the Harmony of Marriage
By Kurt Loft
What keeps a marriage between two musicians in tune? A little Mozart here, a morsel of Mendelssohn there, a bit of Beethoven everywhere else.
It works for cellist Edward Arron and pianist Jeewon Park, a husband-and-wife duo who close out the Palladium Chamber Players season May 4 in St. Petersburg.
"I consider myself the luckiest cellist in the world to be married to such a marvelous pianist," Arron says. "After 21 years of making music together, we have total trust in one another onstage."
Listeners familiar with the Palladium players often see the two in performances with other members of the group. But this final concert features just Arron and Park. Their relationship offstage, they say, enhances what they do onstage.
"One of us can take a musical risk at any moment knowing that the other has got our back," Arron adds. "At this point we say very little in rehearsals – we just play and listen to each other and let things happen in the moment."
Park offers another point of view about the downside – and upside – of a musical marriage. "We have to buy an extra airline seat for the cello every time we travel," she says of her husband's constant companion. "The advantage is I have someone who will empty the dishwasher during our rehearsal breaks."
Fortunately for Park, she doesn't need to bring along a thousand-pound grand piano when she travels from their home in Massachusetts – she plays whatever instrument happens to be at a given concert hall, such as the Palladium's Steinway. Arron will pack up a cello he had commissioned five years ago for the French luthier, Frank Ravatin. He seldom gets on a plane with his 320-year-old Italian-made Giovanni Grancino, which is more fragile and prone to humidity.
"It's been a good old friend, but I wanted to bring a new instrument into this world and be the first person to play on it and mold its sound," he says of the Ravatin. "It has an openness to the sound, a powerful projection, and I'm drawn to its tonal warmth. But every now and then I take the older cello out of the case and ask how it's doing."
When not traveling or doing the dishes, the two have been prepping for this week's program, a challenging mix of music that includes Felix Mendelssohn's Variations Concertantes, Manuel de Falla's Suite Popularie Espagnole, Franz Schubert's Arpeggione and Sergei Rachmaninoff's G Minor Sonata.
"I think people will love this concert because there's such a marvelous repertoire for cello and piano," Arron says about the blend of German, Spanish, Austrian and Russian pieces. "Listeners will be engulfed in the warmth of this music from start to finish. And because it's just two instruments, it takes a different kind of energy than playing larger works."
When playing in a quintet or quartet, Arron focuses on the cello's rich sound to help blend the group's sound. In a duo, he's much more exposed.
"My usual job is to anchor the chamber group, but when I play music for cello and piano I have to be the protagonist," says the Juilliard-trained musician. "There's something more soloistic about it and the audience gets to see a different side of the cello, and they also see everything a piano can do."
The biggest test in this week's program, arguably, is the Rachmaninoff Sonata. Both musicians must squeeze every ounce of energy from their instruments, being careful not to overpower the other, always staying in harmonic sync. The Sonata serves as a microcosm of Rachmaninoff's trademark style – an atmosphere of melancholy and nostalgia, soaring melodies that touch on pathos, and deep color palettes for both instruments.
The music is symphonic in scope but intimate in feeling. Piano and cello engage in an equal conversation – neither dominates – as they strive for a unified voice through four movements full of soaring arias, heated arguments and impassioned pleas.
"We've been playing it together for almost 20 years and it requires constant practice along the way," Arron says. "It's full of sheer virtuosity and symphonic textures, and is so lush and densely written. It's really the Mount Everest for a pianist and cellist."
. . .