Pianist Judy Carmichael is helping us reopen the Side Door Cabaret this Friday. This jazz star, known for her stride piano playing, her unique vocals, her humor and her NPR and Sirius XM show, Jazz Inspired, will be joined by Palladium favorite Nate Najar, on guitar.
Bill DeYoung profiled Judy in Wednesday's edition of the St. Pete Catalyst. It's a great story.
You can read an edited version here or read the entire story at the Catalyst site by following this link.
Tickets are selling quickly for this one-of-a-kind show. To get yours you can follow this link to the Palladium box office.
---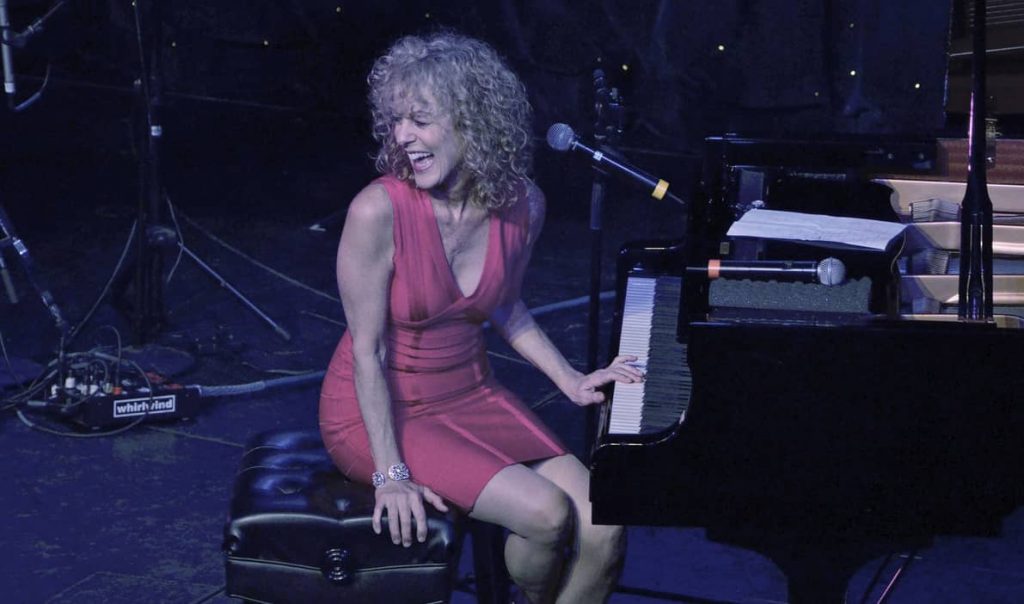 St. Petersburg Catalyst
By BILL DEYOUNG
Her specialty is stride, a rhythmic, freewheeling kind of jazz piano-playing that both sings and swings. In fact, there are few musicians in the world as accomplished at stride piano as Judy Carmichael. It is ridiculously hard to play.
The style is most commonly associated with Fats Waller (1904-43). Carmichael, a tall, California blonde (she sometimes calls herself a "surfer chick") may not look a thing like the legendary Waller – who was Black and weighed close to 300 pounds – but she is certainly his torch-bearer.
She'll perform Friday at the Palladium Theater in St. Petersburg. Carmichael, who's also a vocalist, will be joined onstage by guitarist Nate Najar, whose swaying Brazilian music is well-known in the bay area.
"Stride is such a solo kind of style, but I never wanted to be a soloist," Carmichael told the Catalyst. "I wanted to play with other people. I love collaboration, so I very seldom play solo any more. Some people love it, and I can do it."
She first worked with Najar a year ago, during her first post-lockdown gigs in Florida. Her regular guitarist was unavailable, so she brought him aboard.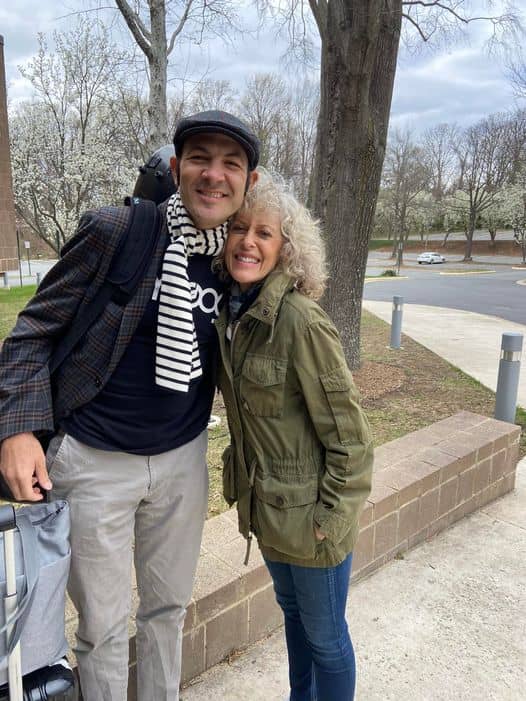 "Nate is a beautiful musician," offered Carmichael. "It's bringing out something very different in both of us. Because he never plays my kind of music." During their initial, hour-long phone conversation, they bonded as friends. "He even warned me – 'this isn't what I normally do' – but we just had a great time.
"There's a great quote – 'love isn't looking into someone's eyes, it's looking in the same direction.' And I felt that Nate and I looked in the same direction. So even though this wasn't a natural pairing, right off the bat, because we want the same things out of music, and we hit it off so much personally, I thought 'We're going to make great music together. This is really going to be fun.'"
Since 1993, Carmichael has hosted Jazz Inspired, an interview show that airs on NPR and is also carried by Sirius XM.
She talks to celebrities and other well-knowns about jazz and its effect on their lives; her talkative guests have ranged from Robert Redford and Roy Scheider to Billy Joel, architect Frank Ghery, singer Tony Bennett and TV legend Larry King.
"They were always into it," Carmichael said. "They were always thrilled. Roy Scheider told me I was the first person who didn't mention Jaws."
Jazz Inspired is different – on purpose – from Marian McPartland's Piano Jazz, which aired on NPR for a whopping 33 years (although Carmichael did guest on the show, and McPartland later did an episode of Jazz Inspired). On that program, musicians performed and duetted with the host.
"I had such respect for her and what she did," Carmichael observed. "There was no reason to do a show just like it.
"I was interested in a much bigger view of creativity and inspiration. And I was interested in audience development – we need more people who understand the art, and who just get joy out of being creative themselves, and not necessarily professional. That's something I've thought for a long time."
Just this week, Carmichael completed interviews with Jimmy Buffett, and film producer Frank Marshall (The Sixth Sense, Back to the Future, Jurassic World).
Though her interview program, Carmichael sees herself as an ambassador. "I figured if I could get them talking about why they love jazz, then I could bring more people to jazz," she said. "Because most people don't think they like jazz – they hear one thing and they get turned off, and they don't give it another chance. And they don't realize what's so special about it.
"I like to think that the show makes people smarter about the creative process. I hope it inspires them. I hope it gets a lot of people who are intimidated by the arts to be less so. And I also learn a lot, because these people keep me inspired."
Growing up in Pico Rivera, a heavily Mexican suburb of Los Angeles, Carmichael took piano lessons, but didn't particularly care for it (although she did learn to read music). "I was thinking I was going to be an actress. As a little kid, I watched old movies – Fred Astaire and all of that – on TV. I only put this together later, but I had a natural affinity for the music of the '30s and '40s. I was really drawn to that.
"But I was never exposed to jazz; my parents weren't playing that. I wasn't thinking 'Oh, this is jazz,' I thought of it as movie music. Then I got a job playing ragtime while I was in college – all I played were memorized rags – and somebody gave me a tape of Count Basie, when he was Bill Basie with the Bennie Moten Band. When he was playing full-on stride.
"And I went crazy. I didn't know it was jazz, I didn't know who Basie was, and I took that cassette, sat in a room and taught myself how to do it. Suddenly, I was passionate. That was a real artistic epiphany."
Basie himself later became one of Carmichael's biggest fans, along with saxophonist/clarinetist Benny Carter and singer Sarah Vaughan. The four of them became good friends.
Carmichael wondered why these icons, and other well-seasoned Black jazz musicians, were drawn to her.
"They were all trying to figure out why I had this great feel, and great time," she finally deduced. "I have the feel because in a weird way I had grown up with '30s and '40s music, on TV. So stride and swing music was a natural.
"And I really stood out, because I was the surfer girl from California who was playing Fats Waller music."