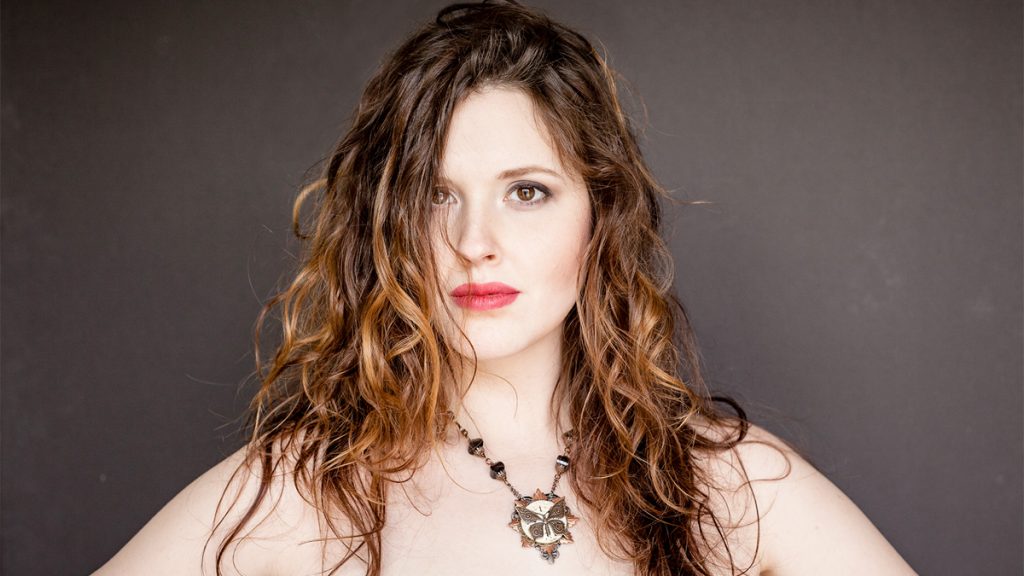 Pop-jazz vocalist Halie Loren makes her Palladium Side Door debut Thursday night (5-19). She's a big name in the music world, but not so well known to our audiences.
Her appearance here should change that. But in case you're wanting to know more about this compelling artist, here's a story that ran in Hype Magazine, just prior to the pandemic.
Check it out below or follow this link to Hype's online magazine.
 For tickets and information about Halie's show on Thursday at 8 in the Side Door, please follow this link. (https://mypalladium.org/events/halie-loren-in-concert/)
---
Who is the artist Halie Loren?
Authenticity and connection have been essential roots of the artistic growth of Halie Loren. Whether injecting the American Songbook with old-school soul or finding a familiar thread of nostalgia in newly-penned originals, the Alaskan-born, award-winning singer/songwriter continues to find new ways to bridge cultures and musical genres.
Halie Loren is truly an international artist. Like her multi-lingual recordings that transcend cultural borders, her art transcends musical genres via a common thread that weaves a rich tapestry. That tapestry connects her original works with pop-smart jazz, flowing into blues, soul and contemporary compositions that are universal, yet deeply personal.
"For the past few years, I have felt more and more drawn to the idea of putting my songwriter self out there in a much bigger way, as a 100% personal form of expression," explains Loren. "When I write, it's all about the story and the feelings behind it, but never about the particular style in which it takes shape."
The result is art in an eclectic form, with soulful compositions reflecting wounded defiance, stubborn love and hard-earned hopefulness. Her voice connects to the soul of her song writing, reminding us that there is always beauty to be found, even in the most painful experiences. That powerful personal connection is the driving force behind From the Wild Sky, Halie's latest and most ambitious album to date. Set for release in April 2018, the album, produced by Troy Miller, features 10 original compositions, as well as a stunning rendition of Roberto Livi's 'A Mi Manera'.
"The songs on the album speak to some very meaningful, transformational moments in my life, some of which were inspired from experiencing new discoveries, love and deep loss," Halie says. "It feels like the most risk-taking and honest art that I've ever created, reflecting my spirit and my personal story in a very revealing way."
The participation of producer Troy Miller (Jamie Cullum, Gregory Porter, Amy Winehouse) was a dream come true for Halie, infusing his unique brand of creativity and sensitivity into bringing her story to life. With the addition of musically adventurous musicians including Femi Temowo, Michael Olatuja and Ben Williams, as well as beautiful vocal and string layers from Becca Stevens, Nathan Schram and Andrew Yee, From the Wild Sky is more like an experience than simply a collection of songs.
"Halie's songs are some of the most pleasing and melodically beautiful I've heard," says Miller. "So much thought and love has gone into crafting them, and I know that any listener will be left nourished in a very profound way."
From the Wild Sky promises to weave Halie Loren's faithful fans into her evolving tapestry, while crossing musical boundaries to forge bonds with diverse audiences worldwide as she has throughout her illustrious career. Her jazz/pop debut in 2008, They Oughta Write a Song, earned Halie an award for 'best vocal jazz album' in the JPF Music Awards (2009's largest independent music awards in the world, with over 42,000 album entries from 160 countries), while her original composition 'Thirsty', from 2010's After Dark, was voted 'best jazz song of the year' in an Independent Music Awards Vox Pop poll. She was an award-winning songwriter early in her career, with songs placing at or near the top in competitions including Billboard World Song Contest, John Lennon Songwriting Contest, and myriad others.
Halie Loren's gifted song-writing talent continued to radiate on her 2013 release, Simply Love, rising to the top of Japan's pop and jazz charts even before its release date. The album climbed to #1 on the Billboard Jazz chart in Japan, while also reaching #1 on the Canada iTunes chart. In 2015, Halie's Butterfly Blue became her third consecutive release to top the Billboard charts in Japan, expanding her audience reach through a work of art heralded as her most sophisticated and mature release to date.
Now, on the wings of a Kickstarter fundraising campaign, support from Halie Loren's fans around the world have directly contributed to the release of From the Wild Sky. Her powerful connection with her fans has grown through relentless touring in the U.S., Canada, Asia, and Europe. Her music has also dazzled prestigious concert halls, including performances with the Jazz Orchestra of Sicily, Korean Jazz Orchestra, the Britt Festival Orchestra in Oregon and the Monroe Symphony in Louisiana.
From the outside looking in, who is the artist Halie Loren?
I'm an Alaskan-raised internationally-touring singer-songwriter with ten albums currently released. Along with recording my original music, I'm also known for renditions of jazz standards or jazzy/soulful/bluesy takes on other people's songs in a number of different languages. My art expresses a lot of emotional sensitivity and sense of vulnerability, and I often write or choose to cover songs that include nature themes or metaphors.
What brought you to the entertainment industry, music specifically?
I've always been a singer, even before I chose it as my professional path – it's been a big part of me since the very beginning. Creating music was and remains one of my greatest loves. When I was 10, I performed in public for the first time, and kept at it until it started to feel second nature to me, and by the time I was 14, I had begun playing professional gigs, and I felt not only that making music was a part of my identity, but performing was as well (these are two very different things, really). In short, love brought me into a life of music, and love is what sustains me in this career even when doing all of the not-so-inspiring work that goes along with making it all happen.
What do you want people get from your music?
I want people to feel. Whether it's catharsis or joy, I want my music to help people feel more connected to their own humanity when they listen to the music I make. I also hope that my music helps effect positive change in the way people view themselves and the world.
Tell us about your current project.
My new album "From the Wild Sky" was released in April (on JVC/Kenwood in Asia and Justin Time Records worldwide) is album #10 for me, and focuses on my original material for the first time since I released my debut album 12 years ago. It explores themes of letting go, in terms of letting go the things that no longer serve one's self, and letting go in order to more fully engage with the mystery and the joy available in the present moment. For me, the songs have come from a place of experiencing a lot of growth in my own understanding of what it means to be human — tragedies and failures and self-discoveries and unexpected (and mostly joyful) major life changes have come at me rapid-fire during these past 5 years, and these songs are the blossoms that emerged from all those planted seeds.
For new listeners, what song of yours would you pick as an introduction to you as an artist?
From my new album ("From the Wild Sky"), I would choose either "Well Loved Woman" or "Painter's Song" — these are quite different from each other but represent a duality that encapsulates a great deal of what I do as a songwriter. Because most of my album catalog skews more toward jazz-oriented music, I would also point to "A Woman's Way", an original song featured on my 2012 album "Heart First".
Tell us a bit about your work and passions OUTSIDE of music…
I am passionate about nature, and love spending time in the wilderness in myriad ways, be it hiking, camping, kayaking, swimming in rivers… all forms of nature experiences have shaped and healed me in profound ways. I'm an artist in more ways than just music: I also make visual art, the most public examples being my album artwork (I've designed all of my album art and covers to-date), but I've created a lot through physical mediums like painting and charcoal drawing, too. My family is a big focus for me as well.
Last but not least, HYPE wants to know…What's your CRAZIEST "Where they do that at?!" aka WTF?! moment… I've had a lot of those kinds of moments, mostly in a positive sense… one that stands out most to me was a few years back when I was on my second or third tour of Japan, and took a train to a new city where I was greeted by a dozen fans who brought a banner of my name to hold up as the train arrived in the station. One, I have no idea how they knew that I would be on THAT train, and two, it was a welcoming committee of fans holding a BANNER they'd created just for me! I mean… that was so surreal.