I'm excited to have one of America's hottest young singer-songwriters performing with his band at the Palladium this Saturday, Sept. 11.
Dylan LeBlanc has earned a lot of praise lately, including being dubbed "the next Neil Young," and I was already a fan of his hits "Cautionary Tale" and "Renegade" when WMNF Radio reached out about bringing Dylan to the Palladium.
Below I'm sharing two reviews of his breakthrough album, Cautionary Tale. And if you want tickets to the show, you can follow this link to our box office. The show is Saturday at 8 p.m. The wonderful singer and songwriter Rebecca Pulley opens the show.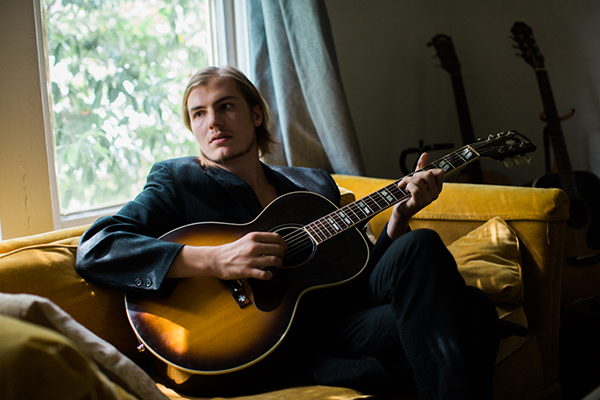 Here are the reviews:
From Renowned For Sound:
What does a singer/songwriter from Alabama have to go through to release a decent record? You could ask Dylan LeBlanc who faced self-doubt over the last three years; a challenge that can break the spirit of any good artist. Prior to that, LeBlanc's 2010 album Paupers Field and 2012 album Cast The Same Old Shadow enabled the musician to make quite a name for himself. The musician can also call the likes of Bruce Springsteen and Lucinda Williams among his fans. LeBlanc has now returned with his third release, Cautionary Tale; a more mature and edgier effort than previous records.
Warm, smooth, luscious; you could go on about how gripping Cautionary Tale is from beginning to end. The title track is possibly the most captivating with its close-to-home lyrics. "Easy Way Out" is four and a half minutes of bliss; the verses like a calm ocean until the tide changes and the chorus comes pouring in; the strings toward the end add to the climactic tendencies within the number.
Dylan seemingly channels folk of old in "I'm Moving On" with its matured vocal harmonies; its subtle yet effective delivery and the incredible string arrangement while "Man Like Me" and closing track "Paradise" are moving and memorable additions within the collection; the former containing a swaying melody and echoed vocals that add to the laid back landscape of Cautionary Tale. "Look How Far We've Come," with its snappy guitar line and eerie vocals, offers the record one of its most distinguished inclusions; a piano's emotive keys adding to the tracks beautifully busy structure.
If you're looking for an album that is an easy listen as well as a journey, you need to give Dylan LeBlanc's Cautionary Tale a spin. LeBlanc's music is maturing as his career progresses; this is evident with this new collection.
From Pitchfork:
Dylan LeBlanc is a 25-year-old Louisiana native with ties to Muscle Shoals. His latest album Cautionary Tale documents his recovery from a personal tailspin.
We are not, nor have we ever been, short on young, white, male singer-songwriters: Moody, earnest, troubled, and usually in their mid-twenties, wielding an acoustic guitar and writing songs ranging from thoughtfully introspective to blissfully unaware. Enter Dylan LeBlanc, a 25-year-old Louisiana native. According to his bio, LeBlanc found himself, at 23, "exhausted and damaged," thanks to alcohol and hard living. True to this particular troubadour form, he more or less got his life together and wrote some songs about it. He's even got a tie to the Muscle Shoals golden goose, having lived in the Alabama town as a child before returning to write his third LP, Cautionary Tale.
The result lands comfortably in the contemporary singer-songwriter canon, but it's hard to say exactly where. Lilting pedal steel, brushy acoustic guitar strums, and tender piano licks suggest Americana, but string sections pull LeBlanc in a different direction. Cautionary Tale often feels like what most folks probably expected from Night Beds as a follow-up to 2013's Country Sleep. LeBlanc's somewhat high mumbled singing directly recalls Night Beds' Winston Yellen, most notably on "Man Like Me."
It's these richer textures and unexpected twists that do Cautionary Tale the most favors. The result is a record that, on the surface, sounds beautiful from start to finish. At times, though, these arrangements create a smoke-and-mirrors effect that obscures the weak spots in LeBlanc's songwriting. "Beyond the Veil" is a slow, bluesy track with blunt lyrics about lying politicians and media manipulation that don't read much different from a teenager's Tumblr post encouraging readers to "stay woke." Later, "Balance or Fall" feels like a tired take on a lonesome cowboy metaphor: guns, the desert, harlots, and the hangman's noose all come up at some point. An Americana-leaning song romanticizing the Wild West: imagine that!