I'm continuing our series of brief conversations with some of our favorite Palladium performers. Today I'm talking with Damon Fowler, who is without a doubt a local guy who made good.
The kid from Brandon has his own kids now and along the way he's played and recorded with some of the best in the blues and rock business. He's got fans around the world who love his incredible playing and singing and his laid-back personal style. When we wanted to add the blues to the mix of music at the Palladium my first call was to Damon. He's been selling out shows here for at least 10 years. And we're the home of his annual Thanksgiving Eve all-star jam.
Damon and his musical pals will definitely be part of the Palladium's reopening plans. Stay tuned for dates!
PALLADIUMPAUL: When was your last gig?
DAMON FOWLER: My last gig was about two weeks ago. It was a carport concert. It was the 43rd anniversary of some fans. I set up in their driveway and played an hour for them and a coupleof  neighbors. Everyone kept far away from each other. It was nice!
PP: What have you got coming up?
DF: I have a couple of private gigs and a couple of club gigs coming up this month.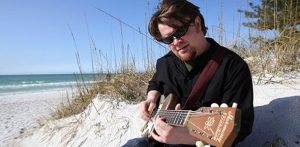 PP: What has kept you busy during this shutdown?
DF: My family has been keeping me busy during a lot of this time.. My son is 7 and my daughter is 5. Also my wife Lacy is 8-and-a-half months Pregnant. LOTS TO DO at my house.
PP: Has there been a silver lining for you personally?
DF: Awhile back Lacy and I bought a pro vinyl cutter and some software and a heat press. We were going to do small batch T-shirts for the band. The shut down happened and I started a livestream series out of my garage… Fowler's Garage! We have had some guests and sometimes I play single.  (Going live  by myself on acoustic guitar has definitely been a learning experience.) We usually go live once a week or so. Each week we try and get a partner for the show. We have been selling Fowler's Garage T shirts. We have had viewers all over the world!
Also the extra time with my family has been great! We have been playing Go Fish every night and eating crock-pot food .
PP: Is there anything you'd like to share with your Palladium fans?
DF: This experience has been a huge range of emotions for me. It's been fascinating and humbling these past few months seeing and hearing the response we have received from music fans.
And I'm excited to start a YouTube Channel that features our new series – Gig Stories from Fowler's Garage. I have been collecting funny or uplifting gig stories from friends. So far we have stories from Selwyn Birchwood, Steve Arvey, J P Soars, Victor Wainwright, Charlie Wooten and Gracie Curran.  We will be releasing more soon!
TO VISIT DAMON FOWLER'S YOUTUBE CHANNEL JUST CLICK HERE!