One of our last shows before we closed our doors in early March 2020 featured the Dean Johanesen Trio, in a show that had folks up on the dance floor in the Side Door.
We're bringing Dean and his band back this Saturday for another show featuring Dean's swinging tunes. We're invited dancers to join Dean and the guys on the Hough Hall stage, which will be open for dancing.
The show is Saturday, Oct. 23 at 8 For tickets and information, you can follow this link.
Tampa Bay Newspapers published a preview of Dean's show . That story is printed here. Check it out and join us for a swinging night with Dean Johanesen and his trio this Saturday.
Here's the story:
---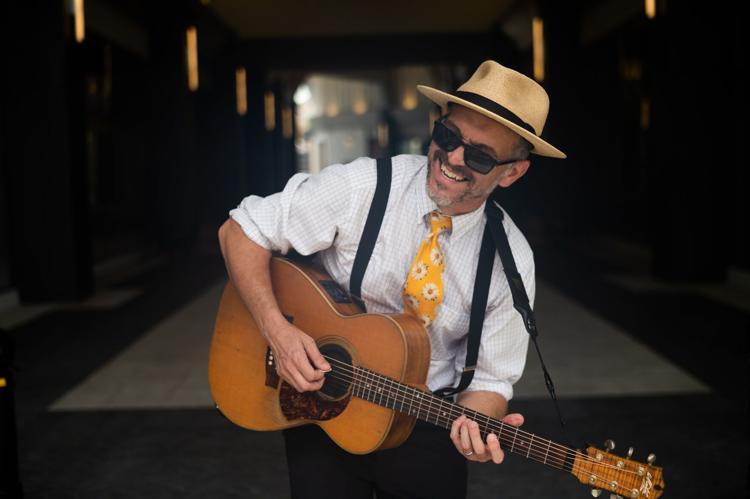 ST. PETERSBURG — The Dean Johanesen Trio will perform Saturday, Oct. 23, 8 p.m., in Hough Hall at the Palladium at St. Petersburg College, 253 Fifth Ave. N., St. Petersburg.
Tickets start at $20. Call 727-822-3590 or visit mypalladium.org.
Originally from Long Island, New York, Johanesen is a performer's performer and a modern-day troubadour. He weaves together fascinating new stories about old times: circus queens, rum runners, mythical elephants, and evil curses. Johanesen is backed by the 24 Hour Men — a hard-swinging rhythm section featuring Mark Pezzo on upright bass and Max Kelly on percussion.
According to his website, after relocating to Florida following a stint of living and performing in Atlanta, Johanesen fronted The Human Condition, a well-regarded acoustic-based rock group that touched on elements of country, Americana, and singer-songwriter influences. The group's final lineup incorporated elements musically that had the band taking part in jamband-based festivals combining Johanesen's songwriting instincts with elements of the band's improvisational strengths. In 2013, Johanesen released his first solo record with intentions of getting back to the importance of the storyteller-songwriting format. A recent passion for gypsy jazz music in the vein of Django Reinhardt has put Johanesen on a musical path with a focus on new stories of old times. Nonfictional characters from the '20s and '30s, circus performers, the side show, prohibition, and the war of currents are all placed in a backdrop of gypsy swing, in a style that Johanesen has coined Circus Swing in an effort to give due respect to the difference in his style compared to the masters of Gypsy Jazz and American Swing.