Our Palladium Chamber Players season continues on Wednesday, April 6, with a concert featuring the works of Mozart, Poulenc, and Brahms. The original Palladium Chamber Players – Multer, Aaron, Park, and Farina – are performing along with special guests Jessica Guideri, violin, and Natalie Hoe, clarinet.
For tickets and information, please follow this link.
Wednesday's concert offers what could be considered selections from "Chamber's Greatest Hits." Kurt Loft, who writes our program notes, has prepared an advance look at the program.
---
Palladium Chamber Players: The Chamber Players w/ Natalie Hoe & Jessica Guideri 
By Kurt Loft
This April 6 concert is a highlight of the Palladium Chamber Players season, when the group plays three masterpieces that should leave listeners wanting more. The combo of Mozart, Poulenc and Brahms may be conservative to some ears, but this is stick-to-your-ribs music in the hands of some of the finest performers you will hear this side of the Alps.
The program opens with Wolfgang Amadeus Mozart's sublime Clarinet Quintet in A major, K. 581, a marvel of refinement and taste, and one of the most joyful creations in the chamber literature. Natalie Hoe, principal clarinet with The Florida Orchestra and the featured soloist, calls it a gem of the repertoire that hasn't been surpassed.
"Mozart is a true master, essentially creating a condensed chamber opera full of character, drama and beauty,'' she says. "It's truly a magical experience as you go on this journey with just five instruments weaving a tale.''
Mozart composed it in 1789 for his friend and fellow Freemason, Anton Stadler, and was so pleased with hearing him play that he named it Stadler's Quintet. The score is a brilliant example of the composer's use of divergent colors and his understanding of the woodwind as a poetic instrument.
"The clarinet part is very lyrical, and requires a beautiful glowing sound in the second movement that transcends time, but in the other movements you can hear great character changes,'' Hoe says. "What I love about this quintet is that each part take turns in playing an important role.''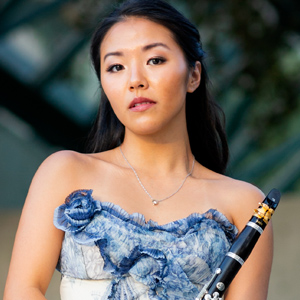 Joining Hoe will be Jessica Guideri and Jeffrey Multer, violins; Danielle Farina, viola; and Edward Arron, cello.
Up next is Francis Poulenc's Clarinet Sonata, Op. 184, written in 1962 and shortly before the composer's death. Poulenc was not only fun but eclectic. He composed in all the major musical genres, including film – the director Alfred Hitchcock used his Perpetual Motion No. 1 in the 1948 murder-mystery classic, Rope – and he had a fondness for the sound of wind instruments. He said they mimicked the human voice and not surprisingly, his late sonatas for flute, clarinet and oboe sound almost choral in their inflection, as if they were singing.
The Clarinet Sonata is a genial work commissioned by the clarinetist and band leader, Benny Goodman. After its world premiere at Carnegie Hall with pianist Leonard Bernstein, the New York Times praised its "remarkable finish, style and refinement.''
Hoe returns for this piece along with pianist Jeewon Park.
After intermission is the night's big work, Johannes Brahms' Piano Quintet in F Minor, Op. 34, written in 1864 and known as the "crown'' of the composer's chamber works because of its unity, driving passion and formal control. The Brahms scholar Michael Musgrave has said the work combines the intensity of Beethoven with the lyricism of Schubert, and these two traits form the essence of Brahms' mature style.
An unsettled passion fuels the opening movement, a riveting conversation between piano and strings that hints of an anguished gypsy song. This roiling section contains no less than five themes, all expertly woven together. A dreamy slow movement, which mirrors the feel of his Second Symphony, leads to a frenetic scherzo with strings announcing themes in unison.
Brahms ends the work in an eerie sound world: a free-form movement of ominous mood and variation that comes to a head, releasing the pent-up tension that began nearly 45 minutes earlier.
Performers include Multer, Guideri, Farina, Arron, and Park.