TICKETS
Reserved Tier A: $50.
Reserved Tier B: $30 in advance, $35 day of show.
Doors open at 7:00pm for seating.
---
Celebrating the 50th anniversary of the legendary Summer Jam at Watkins Glen, the Palladium presents Steeln' Peaches, Have Gun, Will Travel, and Uncle John's Band to celebrate the music of the Allman Brothers, the Band, and the Grateful Dead.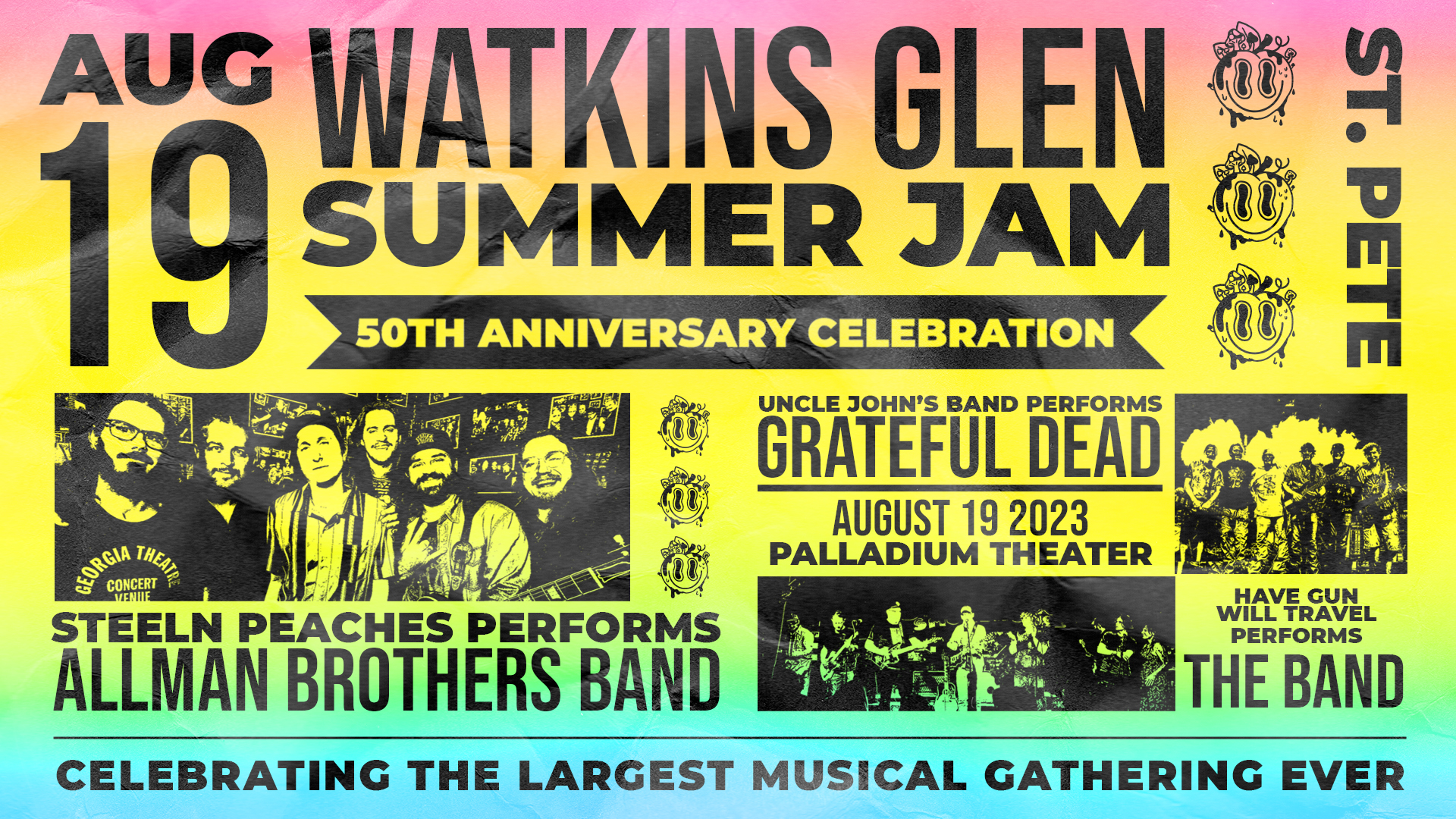 ABOUT THE BANDS

STEELN' PEACHES - The music of the Allman Brothers Band
"Music plus Friends equals Family" .. The mantra has brought together generations of freewheeling spirits, and a tradition which has now summoned a group of some of Florida's most exciting young musicians to pay tribute to the founding fathers of Southern rock
A band that faithfully executes as well as creates new interpretations of the ABB's all-time classics and deep cuts, STEELN' PEACHES combines members of Florida music heroes (& festival mainstays) Thomas Wynn & the Believers and The Groove Orient. The six-piece band of brothers came together with a natural chemistry and dedication to the ABB's legendary discography.
The groundwork for the group's foundation was laid by former members of The Groove Orient, guitarist and vocalist Chuck Magid, percussionist David Vanegas and drummer Aaron "Bucky" Buckingham. Chuck's incorporation of barn-burning lap-steel slide guitar gave the group inspiration for its name.
Club gigs and impromptu jams connected Chuck with blues guitar wunderkind Daniel Heitz, and popular demand at their shows encouraged the two to form a project together. They realized their mutual appreciation for all things Allman overhearing each other covering songs from their catalog. Gradually, wheels began to turn.
When they decided to make it legit, Daniel recruited his Thomas Wynn & the Believers bandmate, keyboardist Colin Fei, as an essential interpreter of Gregg Allman's iconic Hammond explorations. Rounding out the lineup is Chuck Magid Band bassist Glenn Kastrinos (aka GLENNJAMMIN), a musical polymath in the vein of Jacob Collier whose past performances include sets with Classic Albums Live.
These young bucks' impressive talent and range gives them the capability to tackle the virtuosic material and expansive, sprawling jams, with the energetic and youthful stage presence of a band primed to bring the legacy of their musical forefathers into the 21st century.

UNCLE JOHN'S BAND - The music of the Grateful Dead
Formed in 1989 in Clearwater FL,
Uncle John's Band
has kept the Grateful Dead fire aglow in the Southeast for nearly three decades. With three generations of fans spread across the U.S., UJB has provided thousands of deadheads with their weekly dose of authentic live Dead music. Returning visitors to Tampa Bay join locals at the legendary Skippers Smokehouse for UJB's weekly house gig, now running for over almost 1000 Thursdays, and frequently streamed around the world via Livestream. In its 20-year residency at Skippers, UJB has shared the stage with notable guests including Grateful Dead alums & related artists John Kadlecik, Tom Constanten, Vince Welnick, Merle Saunders, Melvin Seals, David Gans, and New Riders of the Purple Sage. Other noted guest sit-ins include Jeff Mosier and Jake Shimabukuro.
With this much history and community, it makes sense that Uncle John's Band was invited to play for a VIP party at Chicago's Field Museum each afternoon of the Grateful Dead's 3-day 'Fare Thee Well' run at Soldier Field in 2015. In addition to regular appearances on the Florida festival circuit, UJB's reputation for excellence has allowed the band to maintain a consistent year-round schedule at many of Tampa Bay's favorite venues.
In a world overflowing with Grateful Dead inspired tribute bands, it is rare to find one that consistently captures the essence and groove of the Dead's engine firing on all cylinders. It requires the right combination of gritty improvisational-minded musicians with a wide palette of individual influences. It requires channeling the Dead's unique sounds and styles, while avoiding the suffocation of mimicry. Finally, time is of the essence, lots of it. There are no shortcuts to developing the mind-meld that allows six musicians to communicate improvisationally and naturally through the Dead's large and stylistically diverse repertoire.

HAVE GUN, WILL TRAVEL - The music of The Band
Have Gun, Will Travel is an American alternative rock/folk rock band formed in January 2006. Based in Bradenton, Florida, the band consists of vocalist and guitarist Matt Burke, guitarist Scott Anderson, bassist Daniel Burke, and drummer JP Beaubien. HGWT has released six full-length studio albums. Their music has been featured in a number of film and TV productions, and they've toured extensively throughout the years since their inception.
---
Presented by the Palladium.