TICKETS
Reserved: $55, $45.
General Admission: $30 in advance/$35 beginning Jan. 1.
Doors open at 7:00 pm for seating.
---
Under the lonesome cry of the midnight train, stars twinkling over hillbilly lights in the mountain fog, Nellie McKay returns with Hey Guys, Watch This, her first album of original material in 13 years. Recorded in Charleston, West Virginia with The Carpenter Ants and a roving retinue of musical compadres, Hey Guys, Watch This traces the haunted sounds of Appalachia to a renaissance of revelry. So unpack your washtub bass, fill up your red cup and pull on your shitkickers 'cause the night is young and the moon is bright, even if we're not.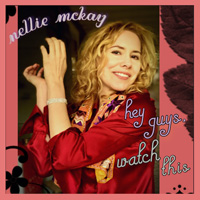 WHAT THE CRITICS ARE SAYING
"…a sly, articulate musician who sounds comfortable in any era" – The New York Times
"A renegade songwriter with an ultraflexible Great American Songbook sensibility, McKay finds modern resonances everywhere…" – Rolling Stone
"Her last two 'cabaret' shows I saw have been jaw-dropping. They both completely subverted the genre," said David Byrne, … Among Ms. McKay's charms, Mr. Byrne said, are the ways she playfully mixes what he called a "tragic noir vibe" with her "wicked sense of humor." – The Wall Street Journal
ABOUT NELLIE McKAY
Nellie's music has been heard on Mad Men, Boardwalk Empire, Weeds, Grey's Anatomy, NCIS, Nurse Jackie, and SMILF, and she has appeared on TV shows including The Late Show with David Letterman, Conan, Ferguson, and The View. Nellie has made numerous radio appearances on NPR's Mountain Stage, A Prairie Home Companion, eTown, and Marion McPartland's Piano Jazz. The Chase Brock Experience produced a ballet of her third album, Obligatory Villagers, and she contributed the forward to the 20th-anniversary edition of The Sexual Politics of Meat. Her writing has also appeared in The Onion, Interview and The New York Times Book Review.
Nellie McKay has won a Theatre World Award for her portrayal of Polly Peachum on Broadway in The Threepenny Opera, performed onscreen in the films PS I Love You and Downtown Express, and her music was used in Rumor Has It, Monster-in-Law, PS I Love You, Gasland, Last Holiday and Private Life.
McKay co-created and starred in the award-winning off-Broadway hit Old Hats and has written three acclaimed musical biographies – I Want to Live!, the story of Barbara Graham, third woman executed in the gas chamber at San Quentin, Silent Spring: It's Not Nice to Fool Mother Nature, an exploration of environmental pioneer Rachel Carson, and A GIRL NAMED BILL – The Life and Times of Billy Tipton, named one of the Best Concerts of 2014 by The New York Times. Her latest lady bio is The Big Molinsky – Considering Joan Rivers ("unpredictable, thrilling…sardonic wit.." – The New York Times).
---
Presented by Jim Wadsworth Productions and The Palladium.