TICKETS
Reserved: $40 (front row of tables), $50, 40.
General Admission: $25 "Early Bird" rate, $30 starting 10/13/23.
Doors open at 7pm for seating.
---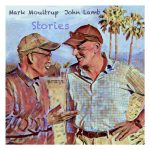 Pianist Mark Moultrup and bassist John Lamb present music from their duo album "Stories."
ABOUT THE ARTISTS

MARK MOULTRUP
Mark Moultrup is a keyboardist, vocalist, composer, arranger, and educator originally from Detroit and after living in Chicago, now resides in St Petersburg, FL.
His 6 CD releases have been heard on NPR and were reviewed by Jazz Times, All About Jazz, Chicago Jazz Magazine, and many others.
He produces his own CDs and has written arrangements for a variety of ensembles from trio to big band, and vocal.
He has been active in schools, teaching, arranging, conducting music clinics and performing.
Mark has been a full-time working musician for 40 years. Venues include work in jazz clubs, festivals, musical theater, concert stages, churches, studios, dance clubs, private and corporate functions, and has performed throughout the United States, as well as Europe, South and Central America, and the Carribean.
He has performed at the Detroit International Jazz Festival 11 times, including 4 appearances with his own group.
Chicago performance venues include The Green Mill, Andy's Jazz Club, Taste of Chicago, The Chicago Jazz Festival, The Jazz Showcase, The Art Institute of Chicago, Sullivans, Fitzgeralds, The Black Ensemble Theater, Eddie V's.
In Florida, Mr Moultrup was featured soloist for La La Land in Concert with a 60 piece orchestra at the Dr Phillips Center for the Performing Arts in Orlando, and at the Mahaffey Theater in St. Petersburg. He also performed with The Florida Orchestra Pops for their Women Rock Shows.
Mark Moultrup Music – the Quintet performs yearly for the Jazz Club of Sarasota Jazz at 2 Concert Series, and at the The Palladium – Side Door. Other venues include 15 South, Eddie Vs Tampa, Avila Golf & Country Club, Longboat Key Club & Resort, Ruby's Elixir, Ruth's Chriss Steak House, and several guest appearances with the Tomkats Jazz Orchestra as pianist, vocalist, and featured arranger.
Writing, arranging, and recording happen in his home studio using current version of recording, sequencing, and notation software.
Mark studied jazz piano, theory and arranging at Oakland University where he had the privilege to study with Herbie Williams, a trumpet artist who had worked with Charlie Parker, and whose students had included Stevie Wonder and other Motown artists.
He studied piano privately with Harold McKinney
Mark also studied jazz piano, theory and arranging at Wayne State University where he was again privileged by being able to study with Matt Michaels, a pianist and arranger who arranged Barbara Streisand's first album.
In December 2016, he received a masters' certificate – Master Orchestration for Film and TV, from Berklee College of Music online for which he received an academic scholarship.
Mark has shared the stage and or recorded with a diverse array of artists including: Smokie Robinson, Bobby Vinton, Mike Stern, Marcus Belgrave, Eddie Kendricks, David Ruffin, & Dennis Edwards (Temptations induction to the Rock & Roll Hall of Fame Concert), Rodney Whitaker, Paul Keller, Larry Smith, Kid Rock, Heather Headly, Regina Carter, Jack Costanza, Kris Peterson, Leslie Gore, Johnny Trudell, Frank Isola, John Lamb, and many others.

JOHN LAMB
John Lamb is an American jazz double bassist who was a member of the Duke Ellington Orchestra. Born in Vero Beach, Florida, Lamb as a child loved playing music, specializing in the tuba. He left high school to join the United States Air Force as a musician for their military band. He was stationed in Texas and then Montana, where the long winters left him ample time to practice. When the band's usual string bass player was unavailable for a gig in 1951, the bandmaster asked Lamb if he could play the bass; Lamb immediately said yes, and before long became the band's new string bassist. He credited his tuba experience for giving him the "feel" to pick up string bass quickly without any prior experience.
Lamb joined Duke Ellington's orchestra in 1964, and toured with them for three years.[3] Lamb was more of a fan of Miles Davis and Red Garland when he was with Ellington, later saying, "I was very young and very cocky. I thought I knew more than Duke at that time…I have more time today to reflect on the things that were accomplished back then, and the places we traveled to and all the wonderful people that we met. So one has to be careful what one does in his young years, because if they're fortunate to live long, it all comes back."[4] In 1966 Lamb performed with Ellington and Sam Woodyard for artist Joan Miró at the Fondation Maeght in Saint-Paul-de-Vence.[4]
Lamb later moved to St. Petersburg, Florida and taught music in public schools as well as St. Petersburg College. Alphonso Johnson was one of Lamb's students. Lamb was awarded the Jazz Club of Sarasota's "Satchmo Award" for service to jazz.

---
Presented by the Palladium.