Daniela Soledade (so-leh-dah-gee) is a rising star among legends in the Brazilian music scene. Downbeat Magazine calls her a "master of classic samba and bossa nova." Soledade is highly acclaimed for her poignantly expressive vocal style and intimate aesthetic. Special guest Bossa Nova Legend Roberto Menescal joins Daniela and her band for an extra special evening celebrating the release of Pretty World, her second full-length album.
1962 was the year Bossa Nova landed in North America. Carnegie Hall hosted the first Bossa Nova Concert on November 21, 1962, presenting Antonio Carlos Jobim, João Gilberto, Sérgio Mendes, Luiz Bonfá, Roberto Menescal and others in a historic evening that changed the landscape of music in North America and worldwide.
Pretty World, the second full-length album from Daniela Soledade is a musical exploration of all the Love that surrounds us. Recorded in Rio de Janeiro, Pretty World features Daniela's intimate and exquisite vocals with an organic and soulful production. The title track is a 1967 composition from pianist and composer Antonio Adolfo. A gifted songwriter, Daniela collaborated with Bossa Nova icon Roberto Menescal to compose Como É Gostoso Sonhar (It's So Good To Dream). Legendary and brand new compositions from Daniela, father Paulinho and grandfather Paulo, and well-loved melodies from Michael Franks and Antonio Carlos Jobim round out the collection.
Daniela's band features guitarist and producer Nate Najar, Patrick Bettison on electric piano and harmonica, Joe Porter on bass, drummer Jean Bolduc and Alvon Griffin on percussion.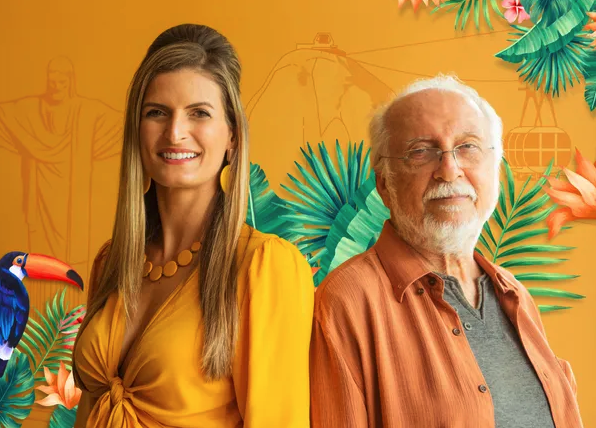 Roberto Menescal began his career as a professional musician playing with renowned artists such as Silvinha Telles, Elis Regina, and others. In the late fifties his composer career blossomed and together with artists such as Carlos Lyra, Tom Jobim and Ronaldo Bôscoli, he created Bossa Nova.
From then on, his guitar's different beat became famous worldwide. Menescal helped to show Brazil around the world with some of his compositions such as "O Barquinho," "Você," "Nós e o Mar," "Bye, Bye Brasil," "Rio," among other remarkable songs. While in the United States it was Jazz time and Brazil was exporting the Bossa Nova swing. In 1962 Menescal participated in the famous Carnegie Hall Bossa Nova Concert in New York together with renowned artists like João Gilberto, Tom Jobim, and Carlos Lyra.
In more than 50 years of career, Menescal has been producing extremely high-quality work. Besides being a great musician and guitar player – recording with important names such as Paul Winter, Toots Thielemans, and Herbie Mann – he has also directed and produced several artist's albums – Gal Costa, Ivan Lins, Emilio Santiago, Leila Pinheiro.
From 1970 to 1985 Roberto Menescal was Arts Director at Polygram Records (Brazil), currently Universal Music, where he worked with some of the very important Brazilian artists like Maria Bethania, Caetano Veloso, Gilberto Gil, Erasmo Carlos, Zizi Possi, Fagner, Nara Leão, and others.
Currently, Menescal performs all around the world in tours and concerts alongside many artists. Besides playing the guitar he runs his own recording label, Albatroz Music, and launches new Bossa Nova artists and groups such as Andrea Amorim, Cris Delanno, BossaCucaNova, in Brazil and abroad.
---
Presented by The Palladium.
---
TICKETS
Premium GA: $50.
General Admission: $25 in advance, $30 day of show.